13.4. Konzert mit anarchistischen Liedern
Collective Cafe Gagarin, Garnisongasse 24, 1090 Wien, https://cafegagarin.at/
Julia Pervolaraki (Gesang) & Giannis Mallouchos (Piano)
10.3. Pan-Balcanic Internationailst Solidarity Demo – Thessaloniki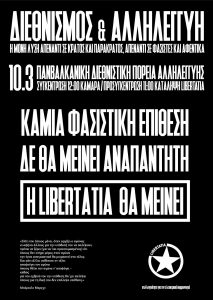 Internationalism & solidarity
The only solution against state and parastate, against fascists and bosses
10.3 Pan-Balcanic internationalist solidarity demo
Gathering 12.00 Kamara / pregathering 11.00 Libertatia Squat
No fascist attack will stay unanswered
Libertatia will stay
«Whoever stays home when the battle begins
and lets others fight for his cause
ought to watch out:
because whoever has not shared in the fight
will share in defeat.
He who wants to avoid fighting
will not once avoid the fight:
because he will fight for the cause of the enemy
who hasn't fought for his own.» (B. Brecht)
Libertatia, Political collective for libertarian communism
10.3. Solidarity Party (Live Concert) in Einbaumöbel, Wien
Stadtbahnbögen 97, 1090 Wien, http://1bm.at/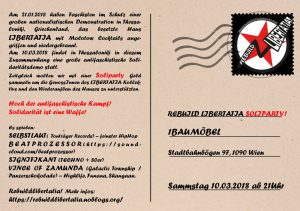 SELBSTLAUT (Tonträger Records) – feinster HipHop
BEATPROZESSOR
(https://soundcloud.com/beatprozessor)
SIGNIFIKANT (TECHNO + 80er)
VINCE OF ZAMUNDA (Galactic Township / Panzerschokolade) – Highlife, Funana, Shangaan.
Permanent Poster Exhibition, Wien
Collective Cafe Gagarin, Garnisongasse 24, 1090 Wien, https://cafegagarin.at/
Posters from the 3 first years of the Liberatia Squat are exhibited and there is a solikassa for donations. Also Solidarity T-Shirts are for Sale